"Wa to Osu Tea Ceremony Gathering"



Expressing my heartfelt gratitude


I was able to finish my 2016-2017 chairperson's term successfully.
Thank you for your cooperation.

"In a good relationship there is harmony. In a good conversation there in concord." This slogan in Japanese has three Kanji "Wa"; which mean harmony, concord and unity. My policy was to follow a Japanese way of thinking and it is a bit abstract expression.
But all members understood it very well and everybody cooperated with my several aims, which I had as a chairperson. The top priority of my term was "How to get more members in our club?" We were able to say "Welcome to our club!" to seven new members, and now they are enjoying our club activities. In the next term, they will exert their full power and we will be able to accelerate our social services.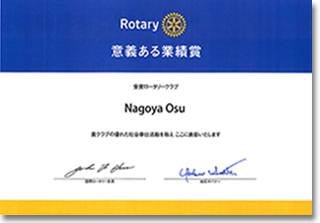 And we got another big news! This term, we have been honored with " The Significant Achievement Award" for Wa to Osu Tea Ceremony Gathering that we organized on November 23rd 2016. This Tea Ceremony Gathering included all three meanings of Kanji "Wa" completely.

By the way, I had to make a speech as a chairperson at every regular meeting, and I often chose the topic of recent Japanese usage problems. I was not confident that I could continue making a speech during the whole year of my term, but I noticed that I gradually started to enjoy thinking and writing about this subject more and more.
Also, I have learned a lot about the modern use of Japanese and started to appreciate more the beauty and the deep meaning of the Japanese language. I hope our club members share this experience. So, I would like to say again: "I greatly appreciate your cooperation! Wa-Wa-Wa!"

Nagoya Osu Rotary Club
2016-2017 Chairperson Shiori Terui


The Significant Achievement Award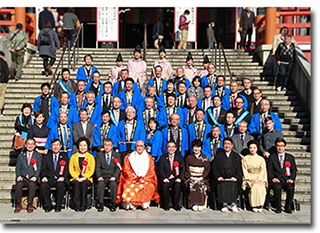 It is our pleasure to announce that we have been honored with The Significant Achievement Award for Wa to Osu Tea Ceremony Gathering that we organized on November 23rd 2017.
Thank you, all members, for your cooperation

We will go forward diligently with our social services.


MEMO
The Significant Achievement Award is given to a club which project is recognized as addressing a significant problem or need in its community.





Wa to Osu- Osu Tea Ceremony Gathering is Accomplished Successfully.


Our big event "Wa to Osu Tea Ceremony Gathering" was held at Osu-Kannon Temple on November 23rd. It was a beautiful Indian Summer day.
Many people participated in this event and enjoyed tea ceremony, listened to Japanese old instruments playing "Gagaku" and did shopping at the precincts of Osu-Kannon all day long.
At 10 a.m. we started our regular meeting but it was the first experience for us to hold it in the main temple.It was a solemn magnificent event lasting for 20 minutes.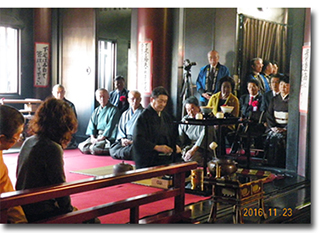 The next program was a special tea ceremony"Kuchashiki".The head of the Matsuo traditional tea making family presented two types of tea, Usucha and Koicha.
He used special tea utensils and made tea at the right side of the main altar.
The sensei performed the ceremony in a sacred atmosphere following Matsuo family's special tradition.
He made two types of tea and the monk brought them to the main statue of Osu-Kannon.

After the special tea ceremony "Kuchashiki" had ended successfully, we started an informal "Wa to Osu Tea Ceremony Gathering".There were three kinds of events held outside: 1) a tea ceremony, 2) Japanese old instrument performance, and 3) Handicraft shop.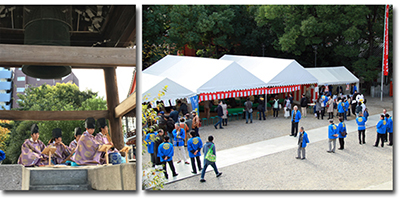 In one of the tents, the tea ceremony was performed in a casual style.Some kindergarten children helped the ceremony and served guests with Usucha and sweets.
In another tent, there was a handmade crafts shop run by some correctional institutions.They sold some furniture made in prison and some kitchen utensils made in Aichi reformatory.These things were very popular and sales figures were very good for the participating institutions. At the tea ceremony, we used some handicraft tea bowls and packet paper (Kaishi) that was made by reformatory students too.These tea ceremony's goods made our tea ceremony gathering very special.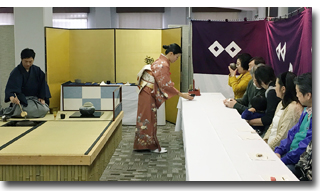 And at the temple inside, the Matsuo family performed the official style tea ceremony.There were three Kakejiku displayed on the wall and an old kettle, a ladle and other tea ceremony utensils presented in the room.All visitors enjoyed this serene tea ceremony performance.
The three parts of this event had different atmosphere, from a formal ceremony to a casual and friendly one.

All members of Nagoya Osu Rotary Club hope that everybody enjoyed "Wa to Osu Osu Tea Ceremony Gathering" very much. Thank you for coming.


Update information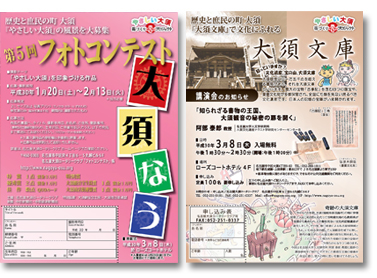 Our tea ceremony gathering is not stiff, it is very interesting for everyone,
Especially if you do it for the first time.
Japanese tea ceremony gathering that we has an important meaning:
Ichigo Ichie(one opportunity, one encounter)
This phrase means each encounter happens only once in a lifetime. We should value every such moment of our lives.
If you meet someone who sits next to you at the tea ceremony gathering, it is Ichigo Ichie.
You will be able to talk with them naturally, even if you have never met them.
Let's try Ichigo Ichie!

Tea gathering ticket (formal style in the room) is 1,000yen (Japanese sweet included)
Tea gathering ticket (casual style under the big tent) is 500yen (Japanese sweet included)
These tickets will be very popular and will go away fast.
Please get an advance ticket for yourself.
They will come with 200yen voucher which you can use at some other workshops in the precincts of Osu Kannon.

Wa To Osu tea ceremony gathering is from 10 a.m. to 4 p.m. at Osu Kannon.
Please enjoy "Wa To Osu" tea ceremony gathering!

If you want to have more information, please check us on the Facebook.





"Wa to Osu Tea Ceremony Gathering"


Our Rotary club will have a big event at Osu- Kannon Temple on November 23rd. We call it "Wa to Osu Tea Ceremony Gathering" Have you ever joined a Japanese tea ceremony?
If you think that Japanese tea ceremony is a very formal event and it has to keep to the rules of etiquette, it is not always so.

Japanese tea ceremony is related to various Japanese arts and philosophical principles but it entertains all guests with hospitality, it is not always stiff and formal.
Our tea ceremony gathering will be joined by everybody, from kindergarteners and overseas students to local residents of all ages.
We welcome all visitors!

On the precincts of the temple, we will have some events with the tea ceremony.
There will be some workshops, some stalls, and cultural Japanese performances and so on.
And you can join "One day Osu Now Photo contest"
You are sure to enjoy Japanese tea ceremony party and all these events.
Please join us!
We will be waiting for you.

TO BE UPDATED LATER